Sea Kayaking
Over the summer months the club meets for sea kayaking trips on a Monday night at 6.30pm at Stonehaven Harbour. The club has several sea kayaks that members can hire including one double sea-kayak.

When conditions are reasonable the coastline around Stonehaven is perfect for exploring in kayaks - small channels and large caves, large cliffs that support multitudes of nesting sea birds (including puffins, fulmars, razorbill, guillemot, kittiwake and eider duck).
Exploring the coast south of Stonehaven
On many occasions close encounters with seals and the dolphins that patrol the coast.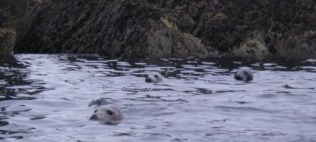 Sea kayaking also gives the opportunity to get a unique view of Dunnottar Castle.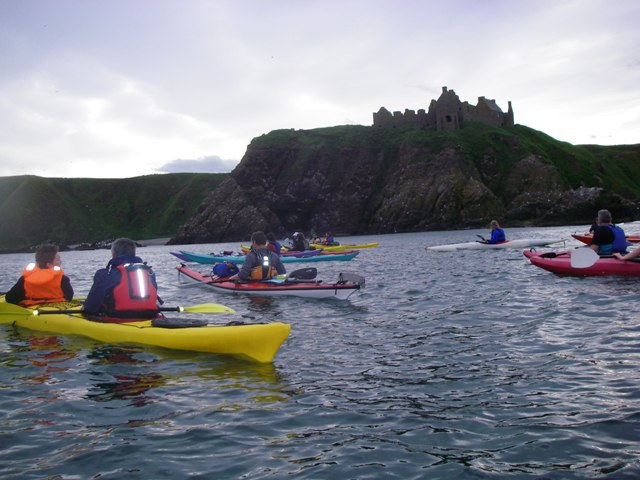 Dunotter Castle

If weather conditions are especially poor, the harbour is generally still sheltered enough to provide a safe area for practising rolls, deep water rescues, Eskimo rescues and paddling strokes.

The beauty of sea kayaking lies in the horizons that are opened up to paddlers. Scotland is a world renowned sea kayaking venue, with deserted beaches that can only be accessed easily by boat. A sea kayak generally has over 100 litre capacity for kit storage, double the amount of a large rucksack, allowing paddlers to make extended voyages into the wild or take some luxuries for shorter trips. The sea lochs and tidal races are particularly impressive venues for those with the necessary skills.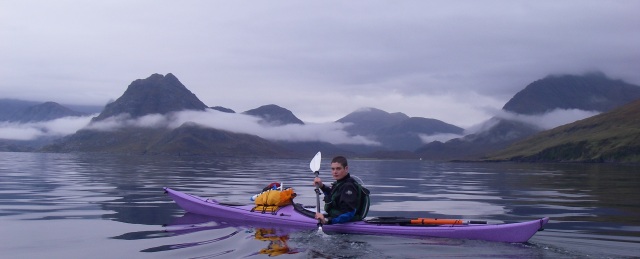 Elgol, Skye
| | |
| --- | --- |
| Isle of Ulva, Mull | Looking towards Ben More, Mull |
Thumbnail Photos of Trips with the NE Sea Kayakers
Isle of May Trip, Fife

Stonehaven to Cove Bay Trip, Aberdeenshire

Isle of May Trip, Fife